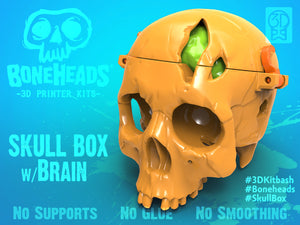 3DKToys
SkullBox w/ Brain
Regular price
$0.00
$0.00
Unit price
per
Tax included.
The Skull Box by 3DKitbash features a no-supports design and prints as a single part that folds into a box. Once folded you can secure the Skull Lid with the handy clamps located on both the left and right side of the skull.
If ghoulish cargo is up your alley: the Skull Box also comes with a 3D printable brain that fits nicely into the cozy cranium!
If you like the Skull Box, check out our BONEHEADS line here:http://www.3DKitbash.com/boneheads.
Watch our Skull Box demo here:http://youtu.be/gvr_xA3z0xc?list=UUg0p-9_bOES7dnHVbnyBZAg
---
Share this Product
---